Make Suicide Prevention a Health and Safety Priority at Your Department
September 8, 2015
World Suicide Prevention Day (September 10th) and National Suicide Prevention Week (September 7-13, 2015)
By Sally Spencer-Thomas, CEO & Co-Founder, Carson J Spencer Foundation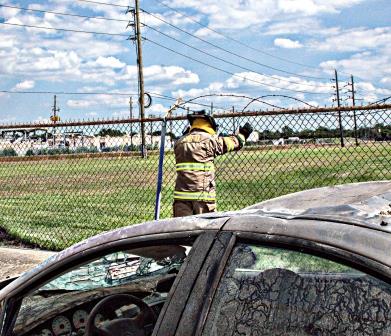 Photo Courtesy of Lauralee Veitch
September 10, 2015, is World Suicide Prevention Day, and this year's theme is "Reaching Out to Save Lives" – a message all those in the fire service can use to let people know that everyone can play a role in suicide prevention. Many things related to fire service culture can contribute to behavioral health issues that can lead to suicide – trauma, stress, substance abuse, "tough-guy" culture – but one common factor is what has been coined "psychache." Psychache is the unimaginable psychological pain suicidal people experience that often leads to feelings of hopelessness and isolation. Reaching out to someone who is experiencing this level of despair can often save a life.
According to the
International Association of Suicide Prevention web site
, "The act of showing care and concern to someone who may be vulnerable to suicide can be a game-changer. Asking them whether they are OK, listening to what they have to say in a non-judgmental way, and letting them know you care, can all have a significant impact. Isolation increases the risk of suicide, and, conversely, having strong social connections is protective against it, so being there for someone who has become disconnected can be life-saving."
Here are some ways you can reach out:
First: "I've noticed ______________(list specific behaviors), and I am concerned."
Second: "Given what you've been going through, it would be understandable if you were thinking about suicide. I am wondering if this is true for you."
Third: "Tell me more about your thoughts of suicide and your distress." [LISTEN]
Fourth: "Thank you for trusting me. I am on your team; you are not alone. I have some ideas that might help."
Fifth: Suggest resources:
1-888-731-3473 (Fire/EMS Helpline)
1-800-273-8255 (National Suicide Prevention Lifeline)
Employee Assistance Program
Department chaplain services
Other local mental health resources
A comprehensive and sustained approach to suicide prevention is recommended for a true cultural change. For more information on best practices involved visit
www.CarsonJSpencer.org
and
www.WorkingMinds.org
. The National Volunteer Fire Council also has training, tools, and resources for emergency personnel and departments through their Share the Load program at
www.nvfc.org/help
.
The Denver Fire Department has developed an innovative suicide prevention program. Sharing these successes is one way start the conversation and work towards changing the culture within the first responder community.
Each of us can lend our voice to suicide prevention efforts this week. Start by engaging in social media with these posts:
Finally, join people around the world by lighting a candle on
World Suicide Prevention Day
(9/10/15 at 8:00pm) in honor of those we have lost to suicide and in respect for those who are fighting for their lives every day.
As a clinical psychologist, mental health advocate, faculty member, and survivor of her brother's suicide, Dr. Sally Spencer-Thomas sees the issues of suicide prevention from many perspectives. Currently, Dr. Spencer-Thomas is the CEO and Co-Founder of the Carson J Spencer Foundation, an award-winning organization dedicated to sustaining a passion for life through suicide prevention, social enterprise, and support for people bereaved by suicide. Dr. Spencer-Thomas is also the past Director of the Survivor of Suicide Loss Division with the American Association of Suicidology, and is the Co-Lead of the Workplace Task Force with the National Action Alliance for Suicide Prevention. www.CarsonJSpencer.org