Katherine Brierley Named 2012 NVFC Junior Firefighter of the Year
May 2, 2012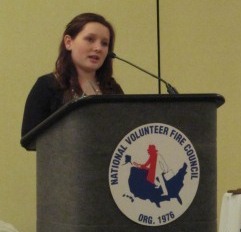 Junior Firefighter of the Year

Kassie

Brierley
Katherine (Kassie) Brierley of Coventry, CT, was awarded the National Volunteer Fire Council's (NVFC) Junior Firefighter of the Year Award at a special ceremony during the NVFC board meeting on April 28 in Alexandria, VA. The NVFC and award sponsor Tyco International annually present the award to honor a junior firefighter who has gone above and beyond in their service to their fire department.
During her trip to the DC area for the awards ceremony, Brierley had the opportunity to meet with her Congressman, Rep. Joe Courtney (D-CT), who praised her hard work and dedication to the fire service as well as commended the entire Brierley family for their involvement in the fire service. Brierley will also receive a trip to a Scott Firefighter Combat Challenge event, courtesy of Tyco, as part of her award.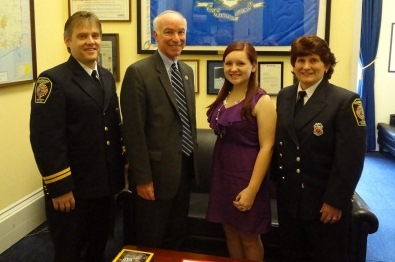 Kassie

Brierley

and her parents with Rep. Joe Courtney
"I would really like to thank Tyco International and the National Volunteer Fire Council for this incredible recognition," Brierley said as she accepted the award. "I would like to thank my fire department, fellow firefighters, family, and friends."
Brierley went on to describe how she became interested in joining her junior firefighter program after she saw a car accident near her house and realized she wanted to be able to help others as the firefighters and EMTs on scene were doing. Her parents, who have been volunteer firefighters and EMTs for about 20 years, encouraged her to join. "I joined as soon as I turned 14, which was one of the best life decisions I've made. It has definitely influenced the rest of my life," she said.
Brierley has been a junior firefighter with the Coventry (CT) Volunteer Fire Association for over four years. She received state certification as an emergency medical responder at the age of 14 and recently became certified as an EMT. Brierley has served as an ambulance engineer for two years, making sure her ambulance remains ready for emergencies.
She has taken two resident firefighting classes at the Connecticut Fire Academy, where she established water supply, led teams in tower ladder operations, and wore SCBA while training to fight fires. She is also a certified boat operator and has training in fighting wildfires.
In addition to training, fire, and EMT activities, Brierley has participated in fundraising events such as a Penguin Plunge and Fill-the-Boot, as well as provided fire prevention outreach in her community. In 2011, she was instrumental in setting up an event that collected over 2,000 canned goods for those in need and a special community Halloween event at the fire station.
Brierley serves as an active mentor to more than 20 new junior firefighters. She is also a member of her school's soccer team, a Girl Scout leader, and an honor roll student – and holds a part-time job. She plans to study pre-medicine at the University of New Hampshire and become a pediatric doctor. She also wants to continue giving back to her community as a volunteer firefighter.
Award Sponsor
Tyco International is a diversified, global company that provides vital products and services to customers in more than 60 countries and has more than 100,000 employees worldwide. Tyco is a leading provider of electronic security products and services, fire protection and detection products and services, and valves and controls. For more information, visit www.tyco.com.