James Conomea Receives NVFC Fire Prevention Award
May 2, 2012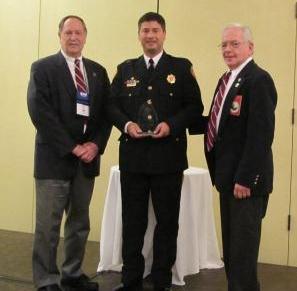 James

Conomea

(center) received the Fire Prevention Award from

NVFC

Chairman Philip C.

Stittleburg

and Awards Committee Chair Joe

Guyotte
James Conomea of Clay County (FL) Fire Rescue received the National Volunteer Fire Council's (NVFC) 2011 Fire Prevention Award, sponsored by First Alert. The award was presented during a special ceremony at the NVFC's spring meeting in Alexandria, VA, on April 28. Conomea was recognized for his demonstrated commitment and exemplary work in the area of fire prevention.
"I'd like to thank the National Volunteer Fire Council and First Alert for this award," Conomea told the NVFC board during the award presentation. "I'm very honored to receive this prestigious award, but there is not just one person that does this job. I'd like to thank our chiefs, our officers, our firefighters – people that get out there and make this process very successful." He also thanked his family for their support as well as their participation in the fire prevention initiatives.

Conomea has been an active volunteer firefighter for more than 15 years. As a Fire Prevention Officer for Clay County Fire Rescue, he has coordinated over 150 fire prevention education events in the last five years. In 2011 alone, he helped distribute over 15,000 fire prevention fact sheets. Conomea has partnered with local stores and organizations, such as the Girl Scouts, police department, and Rotary Club, to reach as many citizens as possible. His goal is to reach all 200,000 residents of Clay County.
Conomea conducts hands-on safety training in the community through neighborhood and school safety events, works with over 50 elementary and preschool classes, and provides literature to over 100 classes each year. He instructs teachers in fire safety, fire prevention, and water safety so that they can share this information with their students. He has secured four grants to deliver fire prevention literature and giveaways to the community.
His reach extends beyond Clay County. Conomea writes articles on fire prevention for the Florida Fire Chief's Association magazine, Firehouse.com, 1st Responder News, and other online outlets and local newspapers.
In addition to his work in fire prevention, Conomea is on the planning committee for a local first response training program for at-risk teens, maintains the fire department web site, is a member of the Honor Guard, and helps recruit and train new firefighters.
Conomea holds a Master's degree in Systems Management and is a Senior Vice President of a global financial firm. He and his wife Brandy have three children.

The NVFC Fire Prevention Award was established in the memory of volunteer firefighter Marc Mueller, who energetically promoted the causes of volunteer firefighters and supported all efforts to elevate the volunteer program to its highest level. He dedicated much of his life to public service and made major strides to bring prestige, credibility, and recognition to volunteer firefighters nationwide. The NVFC and First Alert present the award as a tribute to outstanding volunteerism and community service performed through the fire service.
Award Sponsor
BRK Brands, Inc. (Aurora, IL), is a fully owned subsidiary of Jarden Corporation (Rye, NY) NYSE:JAH, a leading provider of niche consumer products used in and around the home. For 50 years, BRK Brands, Inc. has been the manufacturer of First Alert®-branded home-safety products, the most trusted and recognized safety brands in America. BRK® Brands designs and develops innovative safety solutions including Tundra® Fire Extinguishing Spray, ONELINK® wireless alarms and a comprehensive line of smoke alarms, carbon monoxide alarms, fire extinguishers, and escape ladders to protect what matters most. Such products are also marketed under the BRK Electronics® brand, The Professional Standard for the builder and contractor audiences. BRK Brands, Inc. products are found in more than 30 countries worldwide. For more information, visit http://www.firstalert.com, http://www.brkelectronics.com, or http://www.jarden.com.