Hundreds of Firefighters Gather in Branson for Dedication of New Fireman's Landing
April 16, 2015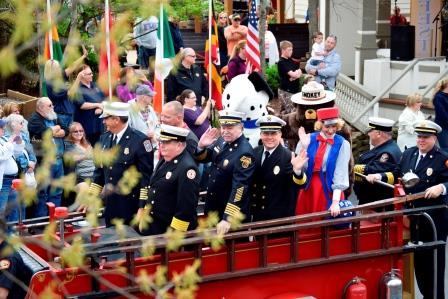 Just in time for National Volunteer Week, hundreds of firefighters from across the country gathered in Branson, MO, on April 11 for the grand opening ceremonies of Silver Dollar City's Fireman's Landing. Uniformed firefighters, including National Volunteer Fire Council Chairman Philip C. Stittleburg, led a parade through the streets of the 1880s theme park to Fireman's Landing, where the grand opening activities included a call to volunteerism with firefighters leading kids in the "Firefighter's Pledge" to serve.
Fireman's Landing is an $8 million new area with 10 family adventures, modeled after a community volunteer recruitment fair of a century ago and showcasing mock training activities of volunteer firefighters. The storyline creates the atmosphere of the rides serving as "training" adventures for recruits for the Silver Dollar City Fire Brigade.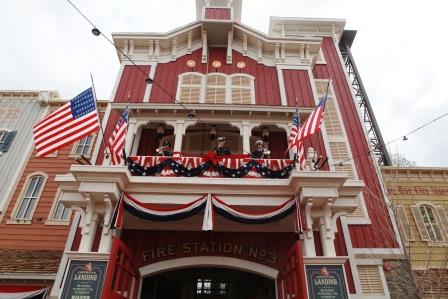 Stittleburg told the crowd of park guests and firefighters that three out of every four firefighters in the United States today are volunteers. "One of the great things about this area is that it makes people aware that there is an opportunity to serve as a volunteer firefighter," Stittleburg said. "It encourages kids to participate in this incredible tradition and carry it forward."
This theming of the new attraction has historical background to the internationally-awarded theme park (founded 1960), as the 1880s town Marmaros, once located on the site of Silver Dollar City, was burned to the ground by a blaze more than 100 years ago. "Now fast forward to the fictional story for Fireman's Landing, where the citizens share a desire to band together to prevent such an event – to be ready with volunteer recruits who have trained to test their preparedness," said Brad Thomas, General Manager of Silver Dollar City. "The message carries that everyone can give back through volunteerism and community spirit."
Silver Dollar City, currently presenting the international festival World-Fest, features seven world-class festivals and events, craftsmen, rides, music, and entertainment. The park has been internationally awarded for excellence, including the worldwide Applause Award and the THEA Award (Themed Entertainment Association). Silver Dollar City is the original property of Herschend Family Entertainment Corporation, the largest family-owned theme park corporation in America. Learn more at www.silverdollarcity.com.
*Photos courtesy of Silver Dollar City.