Help Reduce Residential Arson During Arson Awareness Week, May 5-11
April 15, 2013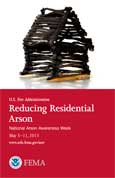 The United States Fire Administration (USFA) is pleased to announce the theme for the 2013 Arson Awareness Week: Reducing Residential Arson. USFA and its partners, including the NVFC, will use the week of May 5-11 to focus public attention on residential arson and provide communities with tools to reduce the incidence of this crime. The goal for this year's event is to provide all residents with strategies to combat arson in their neighborhoods.
"Arson is a devastating crime – killing and injuring hundreds of individuals each year," said United States Fire Administrator Ernie Mitchell. "Arson destroys neighborhoods and shatters lives. I encourage all residents to team-up with local fire department and law enforcement officials to put an end to arson in their community."
The Arson Awareness Week web site at www.usfa.fema.gov/aaw contains tools and resources to help fire departments and communities implement the campaign. These include training, promotional materials, statistics and facts, sample documents, and more.
According to the USFA's National Fire Incident Reporting System (NFIRS) during 2008-2010, an estimated 16,800 intentionally set fires in residential buildings occur annually in the United States. These fires result in an estimated 280 deaths, 775 injuries, and $593 million in property loss each year. The average dollar loss for an intentionally set fire in a residential building is $21,320. The fatality rate for intentionally set residential fires was more than twice that of other residential building fires.
The public can be engaged in Arson Awareness Week by implementing neighborhood clean-ups along with improving internal and external security for their homes and abandoned properties.
For more information and resources for the 2013 Arson Awareness Week campaign, visit www.usfa.fema.gov/aaw.