HeatSeeker: Reducing Heat Stress in Firefighters Around the World
April 22, 2013
By Ken Tuggle, BS, Captain / Paramedic, Vice President HeatSeeker Technology & Design, LLC
HeatSeeker Technology & Design, LLC, based in Knoxville, TN, has made a commitment to save the lives of firefighters around the globe by producing products that assist in rehabilitation on emergency scenes. There have been multiple studies conducted that evaluated the causes of injuries and deaths of firefighters as well as the amount of money spent on treatment and replacement due to lost time. HeatSeeker Technology & Design, LLC is making rehab a tactical consideration.
More firefighters die in the line of duty from heart attacks than from any other cause. The second leading cause is slips, trips, and falls. While the two may seem unrelated, previous research suggests that heat stress may be a common causal factor in both, heart attacks in overweight firefighters with high blood pressure and slips, trips, and falls.1 While departments worldwide have policies and procedures in place for rehabbing line firefighters, there are still an unacceptable number of fatalities and injuries every year due to these factors.
In 2010, there were 71,875 line-of-duty injuries and 72 line-of-duty deaths in the United States. 49 percent of the deaths were due to sudden cardiac death.2 While being able to withstand the elevated heart rates through aerobic exercise and fitness training, the stress cannot be eliminated. The increased body temperatures have several impacts on the bodies of firefighters.
These injuries and fatalities not only have an impact on the fire protection community but on the communities that they protect as well. Another consideration is the monetary impact that it has on the economy. According to the National Institute of Standards and Technology (NIST), the total economic burden to the nation for addressing and preventing firefighter injuries is $2.7 billion to $7.8 billion annually.3
Increased body temperatures can be attributed in part to the Personal Protective Equipment (PPE) that is necessarily worn by firefighters. While this equipment is intended to protect the body from the dangers of the environments that firefighters encounter, it also contains the heat that is built up inside. The body's normal methods of cooling include sweating, for evaporative cooling, and increased heart and respiratory rates to assist in disseminating heat from the body. During fireground activities, disseminating heat is near impossible or at best difficult. Elevated body temperatures increase the clotting factors of blood, which may play a role in sudden cardiac death. Dehydration greater than 2 percent of the body weight of an individual will adversely affect mental function of simple tests. This can lead to poor decision making and in turn increase the chances of taking unnecessary risks.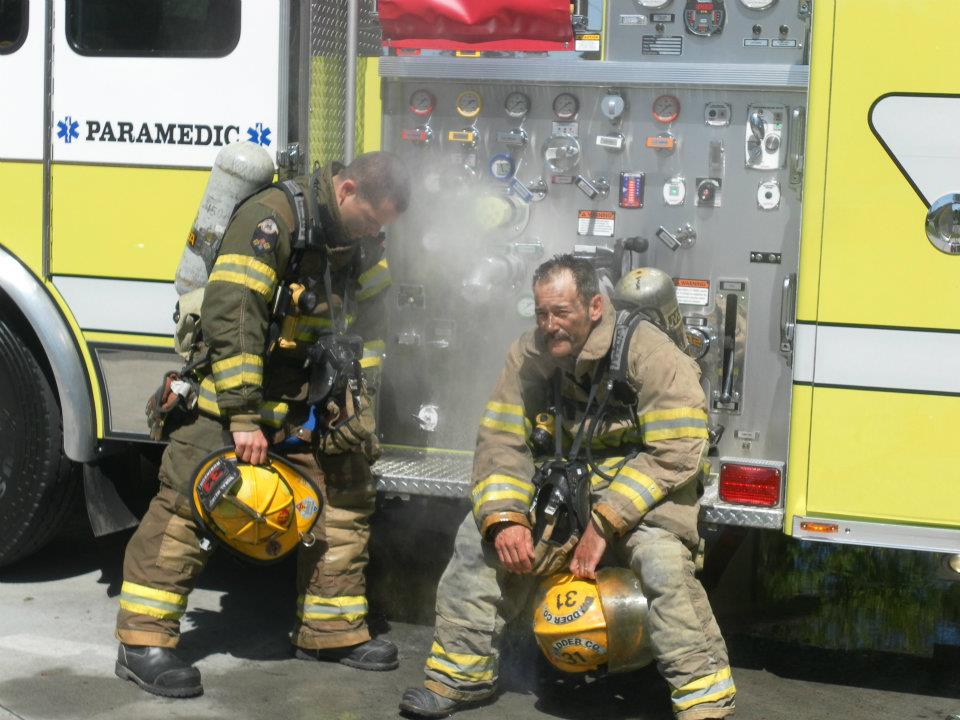 Many of these issues can now be addressed with the addition of a new technology developed by HeatSeeker Technology & Design, LLC which is based in Knoxville, TN. HeatSeeker Technology & Design, LLC saw a need for making firefighter cooling and rehabilitation a tactical consideration and developed a tool to assist in this effort. The innovative Six Shooter, as well as other products available from the company, is able to lower air temperature as much as 30°F to assist in cooling firefighters and lowering their core temperatures to help in preventing cardiac insult and other injuries.
These products can be attached and left on discharges on any fire apparatus and utilized with little to no set-up. They utilize the water from the booster tank on any pumping apparatus or municipal water system and use less than 3 gallons of water per hour. They are adaptable to any hose or appliance that is carried on most any apparatus for more applications as well. The cooling provided by these tools can have a major impact on lowering both injuries and sudden cardiac deaths suffered by firefighters globally when used in conjunction with fitness activities and medical screenings as outlined in NFPA standards 1582 and 1583.
HeatSeeker Technology & Design, LLC is currently testing other products to be available soon that are geared toward the same campaign against firefighter injuries and fatalities around the globe. A full line of the products offered by HeatSeeker Technology & Design, LLC is available at www.firegroundrehab.com. The products offered were created by firefighters for firefighters in the USA.
1 Information taken from Firefighter Fatalities and Injuries: The Role of Heat Stress and PPE, a report published by Firefighter Life Safety Research Center, Illinois Fire Service Institute, University of Illinois at Urbana-Champaign, July 2008.
2 Information taken from Firefighter Fatalities in the United States – 2010 and U.S. Firefighter Injuries – 2010. Bot reports published by the National Fire Protection Agency in 2011.
3 Information taken from NIST: Firefighter Injuries Cost Billions Per Year. March 25, 2005.