PH&S Products "Glove On!" Giveaway

Note: The 2022 entry period is now closed. 
Fentanyl is killing Americans all across the country at unprecedented rates. As the heroin and fentanyl epidemic continues to grow, responders who come in accidental contact with these dangerous drugs are at great personal risk. PH&S Products, LLC (PH&S) is committed to providing the highest quality gloves for the safety and well-being of these responders.
Volunteer fire departments often work with limited budgets and resources, which is why PH&S has teamed up with National Volunteer Fire Council (NVFC) to provide 100 volunteer fire departments with Get-A-Grip Gloves in 2022 through the "Glove On!" Giveaway. Each department will receive two dispenser boxes of GET-A-GRIP gloves (up to 50 pairs of gloves per box) to enhance its responders' health and safety. Applicants must be a member of the NVFC to enter.
About the Gloves
GET-A-GRIP Gloves give you high performance and ultimate hand protection with superior grip from PH&S's Diamond Pattern Technology. The gloves have been permeation tested against fentanyl, heroin, and gastric acid. The super tough nitrile compound gives GET-A-GRIP excellent abrasion resistance and protection.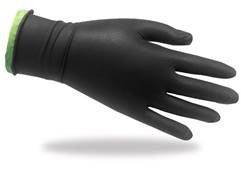 QUICK DESCRIPTION
6 Mil Fingertip
9.5″ Length
100% Nitrile
Raised Diamond Pattern
Powder Free
2-Tone Color: Black with 7233 Green Interior
Single Use
Not Made with Natural Rubber Latex
ACKNOWLEDGEMENTS
FDA gave clearance to a 510(k) medical device Class I listing for a two-tone single-use only, examination grade glove for protection against fentanyl, heroin, and gastric acid per the ASTM D6978-05 standard.
3rd PARTY PROVEN RESULTS
EN 388:2016 Force at Break, EN ISO 374-1 Type B Chemical Penetration Testing, EN ISO 374-1:2016 / Type B, Comply with European Personal Protective Equipment, Regulation 2016/425, Category III (complex design)
SIZES
The following sizes are available. The maximum quantity you can request is two boxes. Selections will be made on entry form.
S, M, L – 100 pieces per dispenser box
XL, 2XL, 3XL – 90 pieces per dispenser box
Click here for glove product page and specifications, including certifications/test standards.
Criteria
To be eligible to enter, your department must meet the following criteria:
Be over 50% volunteer.
Serve a population of 25,000 or less.
Be located in the United States and legally organized under state law. *Tribal entities servicing a tribe recognized by the Bureau of Indian Affairs (BIA) that are chartered pursuant to IRA Section 17 or organized by a tribal government pursuant to a tribal code or resolution are eligible to apply.
Individual applying on behalf of the department or department chief must be a member of the NVFC. Learn about member benefits and join at nvfc.org/join.
Only one entry will be accepted per department. Any subsequent entries received for that department will be disqualified.
Recipients must use the donated items for the benefit of their department and not for any other purpose; cannot be resold.
Recipients agree that their department name, details from the entry, and photo may be used in media by PH&S Products and the NVFC for the purposes of promoting the donation program.
View official rules here.
How to Enter
The entry period is now closed.  
Selection
Eligible volunteer fire departments entered into the giveaway will be randomly selected to receive two boxes of black GET-A-GRIP Gloves (up to 50 pairs of gloves per box, up to 100 pairs of gloves total) in 2022. Winners will be announced within 60 days following the entry period. Winners will be contacted directly before the public announcement is made.
Questions
If you have any questions, contact Lori Shirley at lori@nvfc.org or 1-888-ASK-NVFC (275-6832).
Partners
About PH&S Products, LLC
PH&S Products LLC, an ISO 9001 (with design) certified company, is a leader in the design and development of innovative hand protection, servicing customers' needs in municipal government agencies as well as emergency response teams and in the Public Health and Safety Market. Our goal is to offer a premium examination grade quality gloves at an affordable price. PH&S Products provides superior gloves to a wide variety of healthcare professionals that demand the very best in hand protection. All glove styles are manufactured to the strictest standards of quality, and we offer 3 gloves that are NFPA certified.
Awarded a 510(k) number from the FDA, PH&S has two single-use Class I listing glove styles that have been permeation tested against Fentanyl, Heroin and Gastric Acid per the ASTM D6978-05 standards. This means our Get-A-Grip and Intercept Free gloves will be a barrier for the user from these opioids for up to 240 minutes.
PH&S Products prides itself in offering professional customer service and on-time deliveries from either our east coast or west coast warehouse locations. We are committed to offering our customers quality product, preferred pricing, and lasting customer relationships. Learn more at www.phs-products.com.
About the NVFC
The National Volunteer Fire Council (NVFC) is the leading nonprofit membership association representing the interests of the volunteer fire, EMS, and rescue services. The NVFC serves as the voice of the volunteer in the national arena and provides critical resources, programs, education, and advocacy for first responders across the nation. Learn more at www.nvfc.org.