Globe, DuPont, and NVFC Wrap-Up 2012 Gear Donation Program
January 7, 2013
144 sets of gear were donated to 16 departments in need
Globe, DuPont, and the National Volunteer Fire Council (NVFC) partnered in 2012 to give away sets of gear to fire departments in need as part of Globe's 125th anniversary celebration. In all, 144 sets of gear were distributed to 16 volunteer departments across the U.S. and Canada to help improve the safety and protection of their first responders.
"All of us owe a huge debt of thanks to the volunteers who are the frontline of firefighting in communities across the country," said Rob Freese, Globe Manufacturing Senior VP of Marketing. "Working with these departments is incredibly gratifying, and we're so glad to be able to take this opportunity to improve the safety and performance of some of these volunteer fire departments with limited resources by providing their members with the most advanced turnout gear."
Over 2,600 fire departments applied for the new sets of Globe gear, demonstrating the urgent need across the country for this type of program. The NVFC managed the application process and a selection committee comprised of NVFC board members and Health and Safety Work Group members reviewed the applications.
"We are proud to partner with Globe and DuPont to provide gear to fire departments that are struggling to fund the basic necessities they need to keep their members safe," said NVFC Executive Director Heather Schafer. "This program has been a great success and will have a significant impact for the 144 firefighters that now have new, state-of-the-art, properly fitting Globe gear to protect them. We thank Globe and DuPont for their generosity in making this donation program possible and look forward to a continued partnership in 2013."
The impact of the donations can be seen from the stories of the 16 departments that received the gear. For instance, Pittsfield Volunteer Fire Department, located in a small, rural Vermont town in the heart of the Green Mountains, faces the challenges felt by many small, all-volunteer departments in trying to make due on an insufficient budget that barley covers basic expenses such as insurance and heat. Despite the monetary shortfall, the 25 active volunteers give their all to serving the community, including providing critical community support and protection during crises like the flooding that incapacitated the town during Tropical Storm Irene.
"We are very grateful that DuPont and Globe understand the difficulties small departments like Pittsfield have in finding the funding to purchase the appropriate gear needed to keep their members safe in the line of duty," said Captain Caleb Hawley. "We still can't believe how lucky we are to be chosen."
At the Hammon (OK) Fire Department, which covers an area of 250 square miles, firefighters respond to incidents ranging from vehicle accidents, oilfield fires, wildland fires, structural fires, natural disasters such as tornadoes, and more, while also conducting extensive fire prevention education and smoke alarm installation programs. Yet with no money in the budget for gear replacement, the department relied on outdated gear in poor condition that put firefighters at risk.
"Replacing current turnout gear with updated equipment that is compliant with OSHA and NFPA standards would improve the protection to Hammon firefighters against the hazards they face in the line of duty, including dangerous debris, hazardous materials, and infectious disease," said department member Charles Williams. "We would like to thank Globe, DuPont, and the NVFC for providing a vital service to rural fire departments and for giving the Hammon Fire Department the opportunity to receive this donation."
The following departments each received donations of new Globe gear:
Bolar Volunteer Fire Department (VA)
Chester Volunteer Fire Department (TX)
Consolidated Fire Association (NJ)
Dunnstown Volunteer Fire Company (PA)
English Mountain Volunteer Fire Department (TN)
Fairview Volunteer Fire Department (WV)
Gold Creek Fire District (MT)
Hammon Fire Department (OK)
Jackson Township Volunteer Fire Department (IN)
Lostine Fire Department (OR)
Loyalton Volunteer Fire Department (CA)
Mapleton Fire Department (PA)
Moose Creek Fire Department (Ontario, Canada)
Pittsfield Volunteer Fire Department (VT)
Sleeper Volunteer Fire Department (MO)
Upper Black Eddy Volunteer Fire Company N. 1 (PA)
Globe – a fourth-generation family-owned business founded in 1887 – introduced the first turn-out gear 125 years ago. The company partnered with DuPont and the NVFC to implement the gear donation program as a way to say thank you to the first responders who selflessly devote their time and risk their own safety to protect their communities. A smaller version of the gear donation program will take place in 2013 to continue helping fire departments in need. Stay tuned to the NVFC web site at www.nvfc.org for details.
Thank you to everyone who applied and to all firefighters and emergency personnel who dedicate themselves every day to protecting their communities.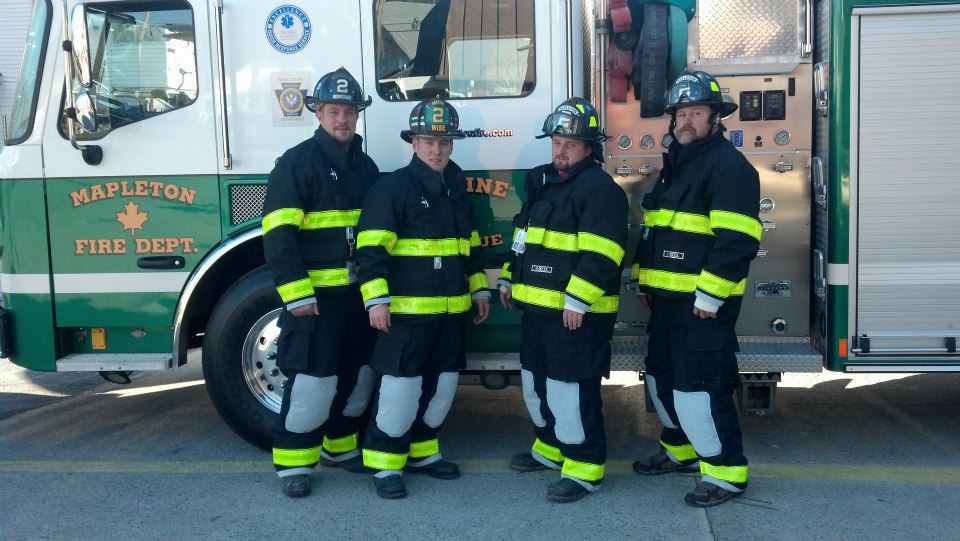 Mapleton (PA) Fire Department is one of the recipients of new sets of Globe gear.

About Globe
Globe is the largest and most trusted manufacturer of structural firesuits in the world. Over the years, Globe has been responsible for introducing many of the materials, designs, and construction methods we now take for granted in firefighter suits. Globe was the first manufacturer in the fire service to use DuPont NOMEX® inherently flame resistant materials. Learn more at www.globeturnoutgear.com.
About DuPont
DuPont (NYSE: DD) has been bringing world-class science and engineering to the global marketplace in the form of innovative products, materials, and services since 1802. The company believes that by collaborating with customers, governments, NGOs, and thought leaders we can help find solutions to such global challenges as providing enough healthy food for people everywhere, decreasing dependence on fossil fuels, and protecting life and the environment. For additional information about DuPont and its commitment to inclusive innovation, please visit http://www.dupont.com.
About the NVFC
The National Volunteer Fire Council (NVFC) is the leading nonprofit membership association representing the interests of the volunteer fire, EMS, and rescue services. The NVFC serves as the voice of the volunteer in the national arena and provides invaluable tools, resources, programs, and advocacy for first responders across the nation. Learn more at www.nvfc.org.