Georgia-Pacific Awards 33 Fire Departments with Bucket Brigade Grants
October 7, 2019
2019 grants total $145,000 for lifesaving equipment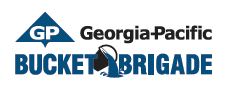 A total of $145,000 has been awarded to 33 fire departments this year through Georgia-Pacific's Bucket Brigade program. Funded by the Georgia-Pacific Foundation and local Georgia-Pacific facilities, this money is used to support fire departments and the men and women who are dedicated to keeping communities safe.
Cash grants are typically used to obtain new protective clothing, such as coats and boots, and to replace aging equipment. Georgia-Pacific also provided all 2019 grant applicants with a membership to the National Volunteer Fire Council, which provides resources, education, programs, and advocacy for first responders across the nation.
Since 2006, Georgia-Pacific has given more than $2.5 million to hundreds of fire departments that operate within 30 miles of Georgia-Pacific facilities. Winners are determined based on need, impact of the grant, and the uniqueness of the submitted story.
This year, fire departments receiving grants span 15 states, including Alabama, Arkansas, Georgia, Illinois, Indiana, Massachusetts, Mississippi, Missouri, New Jersey, New York, North Carolina, Oklahoma, Oregon, Pennsylvania, and Wisconsin. View the 2019 recipients.
Visit the Georgia-Pacific Bucket Brigade web site for more information about the program.
About Georgia-Pacific
Based in Atlanta, Georgia-Pacific and its subsidiaries are among the world's leading manufacturers and marketers of bath tissue, paper towels and napkins, tableware, paper-based packaging, cellulose, specialty fibers, nonwoven fabrics, building products and related chemicals. Their familiar consumer brands include Quilted Northern®, Angel Soft®, Brawny®, Dixie®, enMotion®, Sparkle®, Mardi Gras® and Vanity Fair®. Georgia-Pacific has long been a leading supplier of building products to lumber and building materials dealers and large do-it-yourself warehouse retailers. Its Georgia-Pacific Recycling subsidiary is among the world's largest recyclers of paper, metal and plastics. The company operates more than 180 facilities and employs more than 30,000 people directly and creates approximately 89,000 jobs indirectly. For more information, visit: gp.com.