Free Course: Overhaul: What's the Worst that Could Happen?
November 5, 2019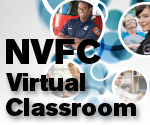 The NVFC is offering the course Overhaul: What's the Worst that Could Happen? FREE for a limited time. This course educates fire and rescue personnel on the criticality of continuing the use of SCBA during overhaul where smoke, products of combustion, and inhalation dangers still exist. Participants will learn about the hazards present in the atmosphere during overhaul, the effects of these products on an individual's health, and recommended agency policies and procedures. Take this course in the NVFC Virtual Classroom.
Note: The NVFC is offering this course free-of-charge for a limited time to all fire and emergency service members. NVFC courses are always free for NVFC members. If you don't have a Virtual Classroom account, create one for free to access this course. For more information about accessing the Virtual Classroom, click here.