Fire Prevention Week 2015: Hear the Beep Where You Sleep
October 4, 2015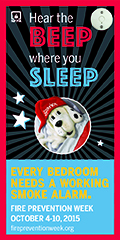 It's Fire Prevention Week, and this year's theme is "Here the Beep Where You Sleep. Every Bedroom Needs a Working Smoke Alarm." Use this week to remind local residents about the importance of having working smoke alarms in every bedroom, outside each sleeping area, and on every level of the home, including the basement.
According to the National Fire Protection Association (NFPA), half of home fire deaths result from fires reported at night between 11pm and 7am, when most people are asleep. NFPA research also shows that working smoke alarms cut the chance of dying in a fire in half. Three out of five deaths result from fires in homes with no smoke alarms or no working smoke alarms.
The NFPA's
Fire Prevention Week web site
contains infographics, media materials, social media posts, videos, tips sheets, and more to help you spread important safety messages in your community.
You can also utilize Fire Corps to help start or expand a fire prevention program in your community. Fire Corps is a grassroots program that allows community members to volunteer with their local fire or EMS department in non-emergency roles. This includes conducting fire prevention education, completing home safety checks and smoke alarm installations, assisting with disaster planning, and whatever else a department needs. Fire Corps volunteers allow departments to increase their capacity and program reach while still enabling first responders to focus on training and response activities.
The national
Fire Corps web site
offers tool to help with fire prevention programs, including the
Fire Corps Guide to Fire and Life Safety Education
, a Home Safety Check List, smoke alarm installation resources and promotional materials, and more. In addition, the
Fire Corps Academy
features over a dozen online courses on topics including
Fire Corps in Public Education
and
Conducting Home Safety Checks
.
Register with Fire Corps for free at
www.firecorps.org
to access resources and start a program.
In addition to spreading key safety messages, Fire Prevention Week is also a great time to let your community know your department needs volunteers. National Volunteer Fire Council (NVFC) research shows there are many untapped markets of potential volunteers, but these individuals often do not know their department utilizes volunteers or is looking for new volunteers.
Take this opportunity to close that gap by letting community members know how they can join the department. Post your volunteer opportunities with the NVFC's new recruitment campaign and access free, customizable, easy-to-print recruitment materials to use in your community and at your fire prevention awareness events. Learn more about the campaign and register today at
portal.nvfc.org
.