First Alert and NVFC Partner to Increase Community Safety
November 5, 2019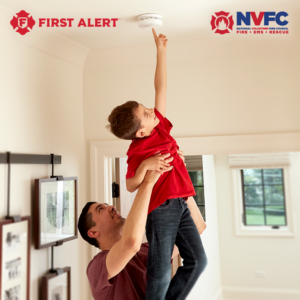 First Alert, part of Newell Brands, has donated $10,000 to the National Volunteer Fire Council (NVFC) to update two trainings that will help fire departments and Fire Corps teams increase community safety. In addition, First Alert donated smoke alarms and fire extinguishers to local Fire Corps programs to distribute in their communities.
"We are grateful for the support of First Alert in helping us keep our communities safe," said NVFC Chair Steve Hirsch. "Our partnership with First Alert has enabled us to train and equip fire department members with the tools they need to implement critical community risk reduction programs. Having better prepared communities increases the safety of residents as well as the firefighters who answer the call."
With the new donation, the NVFC will update two of its online trainings along with related resources. These include the courses FC-304: Conducting Home Safety Checks and FC-303: Fire Corps in Public Education as well as the supplemental guide Fire Corps Guide to Fire and Life Safety Education.
Over the past few years, the NVFC and First Alert have also partnered to release new training to help fire departments and Fire Corps teams better prepare their community for emergencies, including First Line of Defense – Smoke Alarm Installations, Protect Against the Silent Killer – Installing Carbon Monoxide Alarms, and the newly released Home Fire Preparedness – Fire Extinguisher Best Practices. These courses are available for free for a limited time in the NVFC Virtual Classroom, courtesy of First Alert. Login or create a free account here, or click here for information on accessing the Virtual Classroom.
In addition to these training initiatives, First Alert has continued its product donation program to help Fire Corps teams with their community risk reduction efforts. This year, First Alert donated a total of 500 10-year sealed battery smoke alarms and 500 fire extinguishers to local fire departments so that their Fire Corps teams can provide community members with these safety devices to better protect their families and homes.