Fire Prevention Week and Beyond: Engaging with Your Community During a Pandemic
September 29, 2020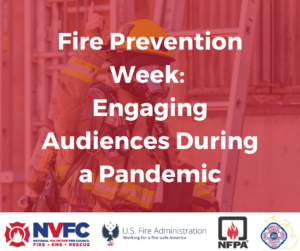 Fire Prevention Week (October 4-10) is fast approaching. Typically, this is a time for fire departments to connect with their communities, hold open houses, and distribute fire prevention and recruitment messages. But how do you do so during a pandemic?
The National Volunteer Fire Council (NVFC) recently hosted a Facebook Live discussion with representatives from the United States Fire Administration (USFA) and National Fire Protection Association (NFPA) to discuss creative ways departments can engage with their communities and reinforce this year's theme while keeping themselves and those they serve safe.
Social Media
Social media can be an effective tool for engaging audiences of all ages. Virtual story times, broadcast on Facebook or other social media platforms, are a great way for departments to connect with younger members of their community. "Children are home, parents need a little bit of a break – it gets [children] to understand that firefighters are friends," said Teresa Neal, fire program specialist at the USFA.
Blaise Harris, the fire and life safety educator at the Rocky Mount (NC) Fire Department, heavily utilizes YouTube to engage with the community he serves now that the pandemic has limited face-to-face interactions. His department created a series of fire safety-related videos, including a puppet show, songs, and more.
Virtual station tours are another idea some departments are implementing. "[A station tour] gives [the public] the opportunity to see the station, what the crews are doing, the apparatus, and how the station runs during the day," said Harris.
Engaging Offline
While social media makes it easier to engage with the public while social distancing, not everyone uses social media. Consider partnering with local food pantries and restaurants to distribute educational materials to community members as they pick up food. Although many students are learning remotely, some school districts still provide meals, and departments have worked with their local schools to hand out fire prevention materials to students.
Grocery stores are also a great place to engage with the public offline. Consider asking to set up a stand or place educational fliers in grocery bags at your local supermarket. "Use a vehicle that is already established and people are going to," said Andrea Vastis, senior director of public education at the NFPA.
Available Resources
The NFPA has a variety of free resources available on their web site related to Fire Prevention Week, including customizable fliers, proclamations, letters for seeking funding, and sample social media posts and graphics that departments can utilize to prepare for Fire Prevention Week and engage with their communities.
Additionally, the USFA offers customizable fliers, banners, and door hangers related to fire safety that departments can print and distribute. Their web site also features sample social media posts, pictographs, photos, and videos available at no cost.
Find more ideas and watch the entire recorded discussion on the NVFC's Facebook page.
This Facebook live event was sponsored by California Casualty. Learn more about insurance options for firefighters and EMS providers at www.calcas.com/nvfc.