NVFC Recruitment & Retention Experience

Quick links: Event Overview • Continuing Education Units (CEUs) • Travel Information • Travel Stipend • Call for Presentations • Sponsorship • Questions?
---
COVID-19 UPDATE
As the nation has continued to adapt to the many unprecedented changes brought on by the COVID-19 pandemic, the NVFC has been actively considering national, state, and local social distancing and travel advisement, as well as the potential economic impact on individual attendees. Based on this information, we will be postponing our 2020 NVFC Recruitment & Retention Experience to September 17-18, 2021, in Cleveland, OH. Please check this website for updates as they are available.

---
Free Virtual Training Sept. 25, 2020
The NVFC will host a free online training on Friday, September 25, 2020 from 3:00 – 5:30 p.m. EDT featuring 2021 R&R Experience instructor Dr. Candice McDonald. Registration is required.
Becoming an Ally to Foster Diversity & Inclusion in the Fire Service
Session description: An ally should not be looked at as a noun, but rather a verb. The path to becoming an ally is a lifelong process of fostering relationships that are built on trust, consistency, advocacy, and accountability. Inclusive leadership is an integrated set of skills that is required to channel the power and potential of a diverse workforce for the benefit of the organization and the communities we serve. It is key for fire service leaders to understand their role in fostering diversity and inclusion. This workshop will provide you with deeper insights to yourself and the benefits of inclusion at all levels of your department. Presentation to be followed by discussion and Q&A.
Instructor bio: Dr. Candice McDonald has served her community for over a decade as a firefighter, EMT, EMS Officer, CE Instructor, Fire Inspector and PIO. She is the 2nd VP for the Cumberland Valley Volunteer Firemen's Association, trustee with Women in Fire, member of the FDIC/Fire Engineering Advisory Board and serves the NVFC as a Fire Corps State Advocate. She works for NASA in the Office of Protective Services as a special agent, physical security specialist and contracting officer representative. She is an adjunct professor for Eastern Gateway Community College. She holds a Doctor of Business Administration with a specialty in homeland security, a master's in organizational leadership, a bachelor's in organizational management and an associate's in human services. @KSUCandice
Sponsored by:
---
2021 NVFC Recruitment & Retention Experience | Cleveland, Ohio

EVENT OVERVIEW
WHEN: Friday, September 17, through Saturday, September 18, 2021
WHERE: Hyatt Regency Cleveland At The Arcade, 420 Superior Avenue East, Cleveland, OH 44114
PURPOSE: The NVFC Recruitment and Retention (R&R) Experience is a new interactive education and networking conference that will bring together fire and EMS personnel from across the country to participate in valuable classroom training and idea exchange relating to volunteer emergency service staffing issues.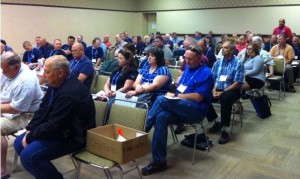 NETWORKING SOCIAL: The NVFC R&R Experience features an evening networking social on Friday, September 17 – a chance to relax and connect with your colleagues. The social includes refreshments and a mini-expo. Sponsorships are available!
WHO SHOULD ATTEND: The conference is open to all first responders nationwide and will be targeted toward department leadership and recruitment officers.  Attendance is limited.
AGENDA: Coming soon.
REGISTER: Coming in 2021. The event fee is $129 and covers two days of training and most meals. Attendance is limited!
---
CONTINUING EDUCATION UNITS (CEUs)
Stay tuned for information on CEUs.
---
HOTEL AND TRAVEL
The R&R Experience will be held at the historic Hyatt Regency Cleveland at The Arcade. Located in a landmark building constructed in 1890, Hyatt Regency Cleveland at The Arcade provides a historic hotel experience with convenient access to downtown Cleveland. Stay steps from the vibrant East 4th Street Entertainment District and a 10-minute walk from all major sporting and entertainment venues.
The NVFC has secured a room block at the conference hotel at the special rate of $139/night for single/double occupancy, $164.00 for triples, and $189.00 for quad rooms. To make your reservation, use group code NVF:
Book by August 25, 2021. Please note, overnight parking at the conference hotel is $34/night. There are many public lots at a lower rate available within short walking distance.
Cleveland, OH, has a dynamic walkable downtown with sports stadiums, museums, restaurants, and waterfront activities. It is served by Cleveland Hopkins International Airport (CHE). Find information on transportation to/from the airport here.
---
TRAVEL STIPENDS
The stipend application period is currently closed.
The NVFC is pleased to offer stipends to help offset the travel costs related to the Recruitment & Retention (R&R) Experience. Each individual requesting a stipend must apply separately.
2020 NVFC R&R Experience Travel Stipends provide $750 per person for reimbursement of travel and conference expenses, including lodging at the conference hotel rate, round-trip airfare, cab/shuttle fare, and/or mileage, and the registration fee. Please note that attendees will be responsible for any additional expenses.
To apply, provide the requested information on this form. Applications will be reviewed on a monthly basis. Please note, limited stipends are available! Submit early to ensure you have the opportunity to receive one.
Criteria:
Applicants must be a volunteer department leader or R&R officer/coordinator.
You or your department must be a current member of the NVFC. Membership options and benefits can be found at www.nvfc.org/join.
Applicants must live more than 60 miles from Cleveland.
Applicants are required to submit a letter of recommendation from a department or city leader.
A maximum of two representatives per department can receive reimbursement. (Please note that scholarships are selected on an individual basis; not by department.)
Only one individual per household will be considered.
Applicants must register for the conference at the rate of $129 to secure their spot.
Questions? Contact Rachel Buczynski, conference planner, at rachel@nvfc.org or 202-887-5700.
---
CALL FOR PRESENTATIONS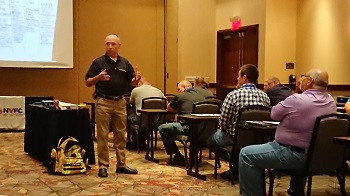 The application period for the Call for Presentations is now closed.

The NVFC is accepting proposals from qualified instructors and speakers for presentations to educate first responders about critical issues in recruitment and retention in the fire and emergency services.
The 2020 NVFC R&R Experience theme is A Forum for the Future. The new R&R-focused event will be an opportunity for fire and EMS personnel from across the country to participate in valuable classroom training as well as exchange ideas and best practices with their peers. The conference is open to all first responders nationwide but will be targeted toward department leadership and recruitment officers. Eight breakout sessions will be offered; each should be 90 minutes in length.
Examples of relevant presentation topics include, but are not limited to:
Diversity & inclusion
Working intergenerationally
Work-life balance
Marketing your department
Finding funding
Reputation management
Department culture
Youth development
Supporting your volunteers
A peer review team will evaluate all presentation proposals. Selections will be made based on quality, relevance, focus, practical application, and the presenter's experience and credentials. Selected presenters will be notified by February 28.
The NVFC will cover travel expenses and provide a stipend for selected presenters. Teaching teams are welcome to apply, but only one instructor per course can receive travel reimbursement/stipend. Please note, while organizations and companies are welcome to apply to share their subject matter expertise, all courses must be educational in nature.
---
SPONSORSHIP
Sponsorship opportunities are available for an evening reception, meals, technology, and more! Click here for details. To learn more, please contact Meg Goldberg, NVFC engagement manager, at meg@nvfc.org or 202-887-5700 x117. Sponsoring the NVFC Training Summit provides a unique opportunity to be in front of, and to highlight your brand and what you do to firefighters, EMTs, and rescue personnel from across the United States. It shows your commitment and support to the industry and NVFC.
Thank you to our current sponsors:
| | |
| --- | --- |
| First Arriving is the leading marketing company powering success for volunteer fire, rescue, and EMS departments, businesses, associations, and nonprofits. Led by lifelong volunteer firefighters, First Arriving is your partner to ensure your leadership and members have the tools, resources, and services needed to grow and be a successful, dynamic organization. Our solutions include web sites, fundraising, recruitment marketing and member progression management, digital dashboards, learning management, and much more. https://www.firstarriving.com/ | |
| Verizon powers the nation's largest and most reliable 4G LTE network, covering more than 2.5 million square miles and 98% of Americans, representing a 450,000 square mile coverage advantage over the nearest competitor. We understand the important role first responders have in protecting and serving our communities and have been partners with this community for decades. Volunteer fire fighters, along with other first responders, have access to wireless discounts and can request priority access. You can count on our network when you need it most. Learn more at VerizonWireless.com/firstresponders. | |
---
QUESTIONS?
Contact Rachel Buczynski, conference planner, at Rachel@nvfc.org or 202-887-5700. Read about the NVFC's health & safety conference, the NVFC Training Summit, at www.nvfc.org/summit.