EMS/Rescue Section Chair Receives E. James Monihan Director Award
May 9, 2012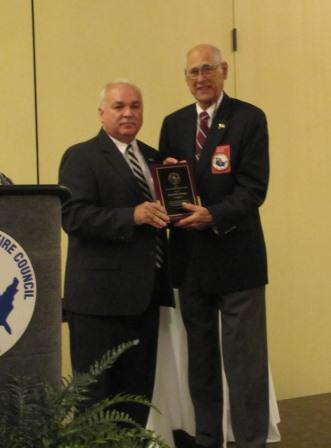 EMS/Rescue Section Chair Ken

Knipper

(right) receives the Director Award from

NVFC

1st

Vice Chair Jeff Cash.
Ken Knipper, Chair of the National Volunteer Fire Council's (NVFC) EMS/Rescue Section, received the prestigious E. James Monihan Director Award from the NVFC during the Council's spring meeting on April 28 in Alexandria, VA. Knipper was recognized for his extraordinary dedication and service on behalf of the NVFC, especially in the area of EMS.
The Director Award is not necessarily presented each year, and Knipper was unaware in advance that he had been chosen to receive the award.
"I'm deeply honored and humbled. I thank the board and the Executive Committee," said Knipper. "It's been a real pleasure to represent this organization, and I've found it easy to go out there and pitch this organization and represent the volunteer EMS providers in this country. They need a voice."
Knipper has been the Chair of the EMS/Rescue Section since it was founded in 2010, and before that was Chair of the NVFC's EMS Committee. He has been a tireless voice and advocate on behalf of the emergency medical services and has dedicated over 30 years to its service and advancement. He represents the NVFC and volunteer EMS on numerous committees and taskforces, including serving as Chair of the NFPA Technical Committee on EMS. Knipper recently received the National Association of Emergency Medical Technicians' Rocco V. Morando Lifetime Achievement Award for his outstanding accomplishments and dedicated service in the field of EMS.