CSX Rail Respond – Real Time Rail Information for Firefighters
February 29, 2016
By Charles Werner, Fire Chief Emeritus, Charlottesville, VA, EFO/CFO/FIFirE/CIPM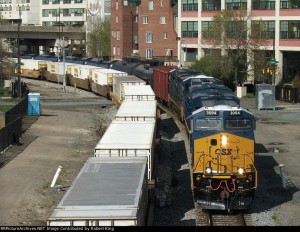 In 2014, CSX Transportation took a bold step forward in the development of a program that provides critical rail information to emergency responders in real time. This program called CSX Rail Respond (formerly known as "CSX Operation Respond") is now available for FREE to emergency responders in all 23 states & DC, covering 21,000 miles of track and involving 13,000 local jurisdictions, where CSX operates. The online program is a web application that can be accessed by computer, smartphone, tablets and other wireless devices regardless of their operating system.
For fire departments, CSX Rail Respond is an exceptional tool that provides the critical information that is needed for situational awareness and effective decision making during the management of a rail incident. This free site is particularly beneficial to volunteer agencies with limited budgets and resources as it provides a comprehensive suite of information sharing tools – all within the CSX Rail Respond program.
Designed specifically for first responders, CSX Rail Respond is a mobile information system that enhances response to rail related emergencies, especially hazardous material incidents. The program development involved an Advisory Council which consisted of the National Volunteer Fire Council, the International Association of Fire Chiefs, the Congressional Fire Services Institute, and CHEMTREC. The program provides two levels of user interface (advanced and basic) and is now being used by over 6,000 emergency first responders.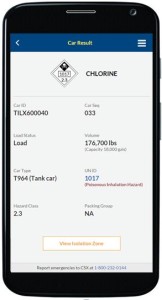 The advanced access provides more in-depth information to chief/incident command level roles with real time information on rail car content and train list search results:
Entire Train Consist
Car Sequence Order
Load/Empty Status
Railcar ID Number
Color Coded HazMat ID
Hazard Classification
The basic access provides information to single rail car content but excludes the full train list. A basic single car search provides the following information:
Placard recognition
Hazard Class
DOT Car Type
Load Status
Volume
UN ID – PIH/TIH identifier
Proper Shipping Name
Packing Group
Train position
In addition to the rail car content, a suite of other useful information is provided in the program, including:
Railroad emergency contact information
Locomotive information
HazMat UN number search
National Emergency Response Guidebook
Chemical databases
List of most common hazardous materials transported by CSX
CSX unit train emergency response guide
Recent enhancements include:
Isolation Zone: a tool to recommend the appropriate isolation zone in an emergency, based on factors including commodity type and spill size, with contact information for affected sensitive receptors and businesses
The ability to request access to CSX Rail Respond directly from the homepage
Locomotive data, including fuel status and hazard information
Emergency Response Information
Protective Action Distances
Placard Search Database
Water Reactive List
Additional security
Weather data to help you anticipate events that would impact your response decisions
An environmental tool to identify vulnerable water sources and flowlines
CSX Rail Respond also builds upon other tools provided by CSX to emergency response agencies for providing information about the commodities transported through states and local communities by CSX:
CSX SecureNOW – map-based geographical train and rail car monitoring tool allowing homeland security and emergency management centers to track CSX trains in real-time
* In place in 20 of the 23 states where CSX operates
* U.S.Dept. of Transportation , Transportation Security Administration and CHEMTREC
CSX HazMat Density Reports – for over 20 years CSX has been providing detailed hazmat density reports to local community emergency response and planning officials
CSX HazMat Training Resources– which includes computer-based training, self-study training, reference guides, and face-to-face training
As to security, each responder must be identified and submitted by the authorizing emergency responder agency/organization. Other security access requirements inherent to the system are:
Each user is assigned a login and will have an assigned password
All users are vetted through face to face training or phone verification
Access request are verified semiannually through email
Provides on demand reporting users date-time stamp of system access and searches conducted
* All searches archived in system history
Controls in place to automatically notify CSX of system abuse (e.g. a given number of searches within a specified period of time)
System access and search reports generated and monitored daily
Access controlled by CSX Infrastructure Protection
Advanced level access granted to Chiefs/ Directors and above. Chiefs can request advanced level access for their team in writing
For fire departments or other emergency organizations that wish to access the CSX Rail Respond Program, follow the below procedures to request access:
Visit CSXRAILRESPOND.COM
Type your email address in the email field
Click inside the "I Agree to Confidentiality Agreement" check box
Click the "Request New Account" button
Fill in required fields and click Submit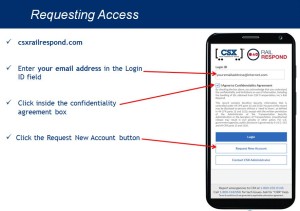 The CSX Rail Respond is a paradigm shift from the way that emergency responders previously received critical rail car information during emergencies and is based on trust and empowerment. Additionally, CSX Transportation is committed to continually reviewing the program and making enhancements as recommended through direct input from first responders.
For more information or to request a training event for your staff, contact CSX via email at csxrailrespond@csx.com.