Contribute to the Prevention and Public Education Exchange
February 11, 2013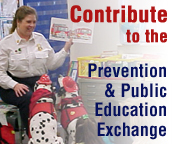 The National Volunteer Fire Council (NVFC) is working with the United States Fire Administration (USFA) to expand its Prevention and Public Education Exchange. The Exchange is an online repository of fire prevention and life safety resources that have been successful in communities across the United States. As part of the Federal Emergency Management Agency's (FEMA) Learning Research Center, the Exchange allows for the sharing of ideas and resources so that others may adopt and implement critical prevention and safety programs.
The Exchange currently houses over 550 items but is looking to expand. Departments with successful and/or innovative prevention and life safety materials are encouraged to contribute to the Exchange.
The NVFC has created a form to collect submissions through April 26, 2013. Access the form at https://nvfc.wufoo.com/forms/prevention-public-education-exchange-submission/. Explore the Exchange online at http://www.lrc.fema.gov/exchange.html
Educating communities about fire prevention and life safety is essential to reducing the number of deaths, injuries, and damages. Please consider contributing to the Prevention and Public Education Exchange to help inspire new ideas and offer practitioners immediate access to proven, effective tools for their communities.
*Photo courtesy of Dayna Hilton