Coming Soon: New Recruitment and Retention Courses
December 1, 2015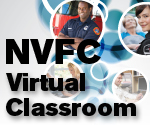 As part of the new Make Me A Firefighter campaign, the National Volunteer Fire Council (NVFC) is working with industry leaders to produce a series of online courses to help departments address key recruitment and retention needs. These courses will be available for free in the NVFC Virtual Classroom thanks to a federal SAFER grant.
The Power of Positive Leadership
This presentation explores positive leadership, what it is, how it works, and how it contributes to a successful recruitment and retention strategy. It emphasizes how leadership impacts the overall success of an organization and outlines basic steps to implement a positive leadership model in any organization.
Strategic Volunteer Management: From Recruitment to Retirement and Everything in Between
This course walks through a comprehensive recruitment and retention strategy beginning with an objective-based needs assessment to distill need in great clarity through the phases of recruitment, retention, recognition, rewarding, training, discipline, and culminating in separation or retirement. This program helps a newly-formed recruitment and retention program go from start to finish or helps an established program improve based on best practices from a series of emergency service programs.
The Volunteer Recruitment and Retention Plan: A Roadmap for Emergency Services Organizations
This presentation introduces the concepts and principles of a recruitment and retention plan with particular focus given to research and analysis during the planning process.
Recruitment and Retention with "E's"
Overcoming recruitment and retention challenges requires strong efforts by committing time, talent, and resources. This course explains why everyone has a role in recruitment and retention, helps departments identify champions within the community, classifies the traditional and non-traditional roles within fire service agencies, outlines recruitment and retention practices, and offers guidance on evaluating effectiveness.
Sticking Like Glue: Volunteer Fire and EMS Personnel
This course outlines the challenges of staffing a volunteer or combination department and offers solutions through leadership, teamwork, marketing, and ownership.
Utilizing Resources to Maximize Recruitment Efforts
This presentation helps departments recognize and utilize readily available resources to help with recruitment and retention. Topics covered include social media and maximizing efforts through communication, developing a web site, and building a network. A case study examining the success of the Oregon Fire Recruitment Network is also discussed.
How Organizational Structure Affects Volunteer Retention
This presentation addresses how organizational structures, specifically leadership and oversight, can be considered as the viewing glass or perspective through which individuals, including volunteers, see the organization and its environment.
Being Fair to Everyone: Why Diversity and Inclusion are Important for You and Your Department
This course is aimed at increasing the participants' cultural awareness, knowledge, and skills in order to benefit fire and emergency service organizations by promoting the inclusion of different identity groups, and by facilitating teamwork.