Chief James Jarboe Presented with NVFC Fire Prevention and Education Award
April 21, 2015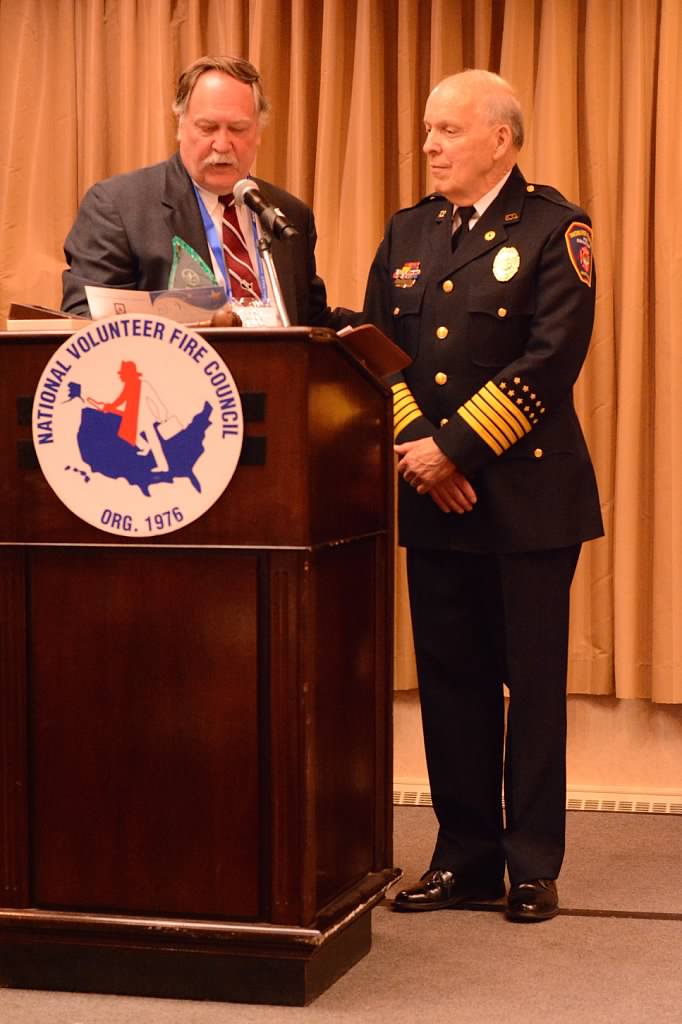 NVFC Chairman Philip C. Stittleburg (left) presents Chief James Jarboe with the 2015 Fire Prevention and Education Award.
The National Volunteer Fire Council (NVFC) recognized Chief James Jarboe with its 2015 Fire Prevention and Education Award during a special dinner at the NVFC spring meeting on April 17. Established in memory of volunteer firefighter Marc Mueller and sponsored by First Alert, the award honors a volunteer firefighter or support volunteer who has made a significant contribution in the area of fire prevention.
When presenting the award, NVFC Chairman Philip C. Stittleburg praised Jarboe's lifetime of service to his community and his innovative approaches to fire prevention education.
"It is an honor to receive this award in honor of Mark Mueller, who did so much for the fire service," Jarboe said upon receiving the award. He also noted all of the achievements being made by members of the fire service nationwide. "I know across the country there are a lot of people doing great things in fire prevention…. The volunteerism is out there."
Jarboe has served his community through fire prevention and education outreach for over 50 years. He has coordinated and been the lead instructor of the Takoma Park (MD) Volunteer Fire Department's Babysitter's Safety Training Program since 1964. Over 2,500 girls and boys have completed the 10-hour program under his leadership. Since 1982, he has authored the monthly Firehouse Report column in the city's newsletter, which includes fire safety messages, response statistics, fire loss data, and more.
Each Halloween Jarboe paints pumpkins and displays them throughout the area with safety tips for trick-or-treating. He also coordinates a partnership with the Lions Club and Holy Cross Hospital blood drives to provide fire safety information to blood donors.
Throughout his tenure at the department, Jarboe has helped to design emergency preparedness brochures; developed, organized, and coordinated the city-wide "Operation Smoke Detector Check" project; served as a safety monitor at the city's annual Halloween haunted house; and provided a weekly hour-long fire safety segment at the local college radio station. Jarboe also continues to provide fire safety tips during department programs and city events.
About Award Sponsor
BRK Brands, Inc. (Aurora, IL), is a fully owned subsidiary of Jarden Corporation (Rye, NY) NYSE:JAH, a leading provider of niche consumer products used in and around the home. For 50 years, BRK Brands, Inc. has been the manufacturer of First Alert®-branded home-safety products, the most trusted and recognized safety brands in America. BRK® Brands designs and develops innovative safety solutions including Tundra® Fire Extinguishing Spray, ONELINK® wireless alarms, and a comprehensive line of smoke alarms, carbon monoxide alarms, fire extinguishers, and escape ladders to protect what matters most. Such products are also marketed under the BRK Electronics® brand, The Professional Standard for the builder and contractor audiences. BRK Brands, Inc. products are found in more than 30 countries worldwide. For more information, visit www.firstalert.com, www.brkelectronics.com, or www.jarden.com.