Bryx, Inc. T-Shirt Fundraiser to Benefit Firefighters and Paramedics Affected by Natural Disasters
December 3, 2019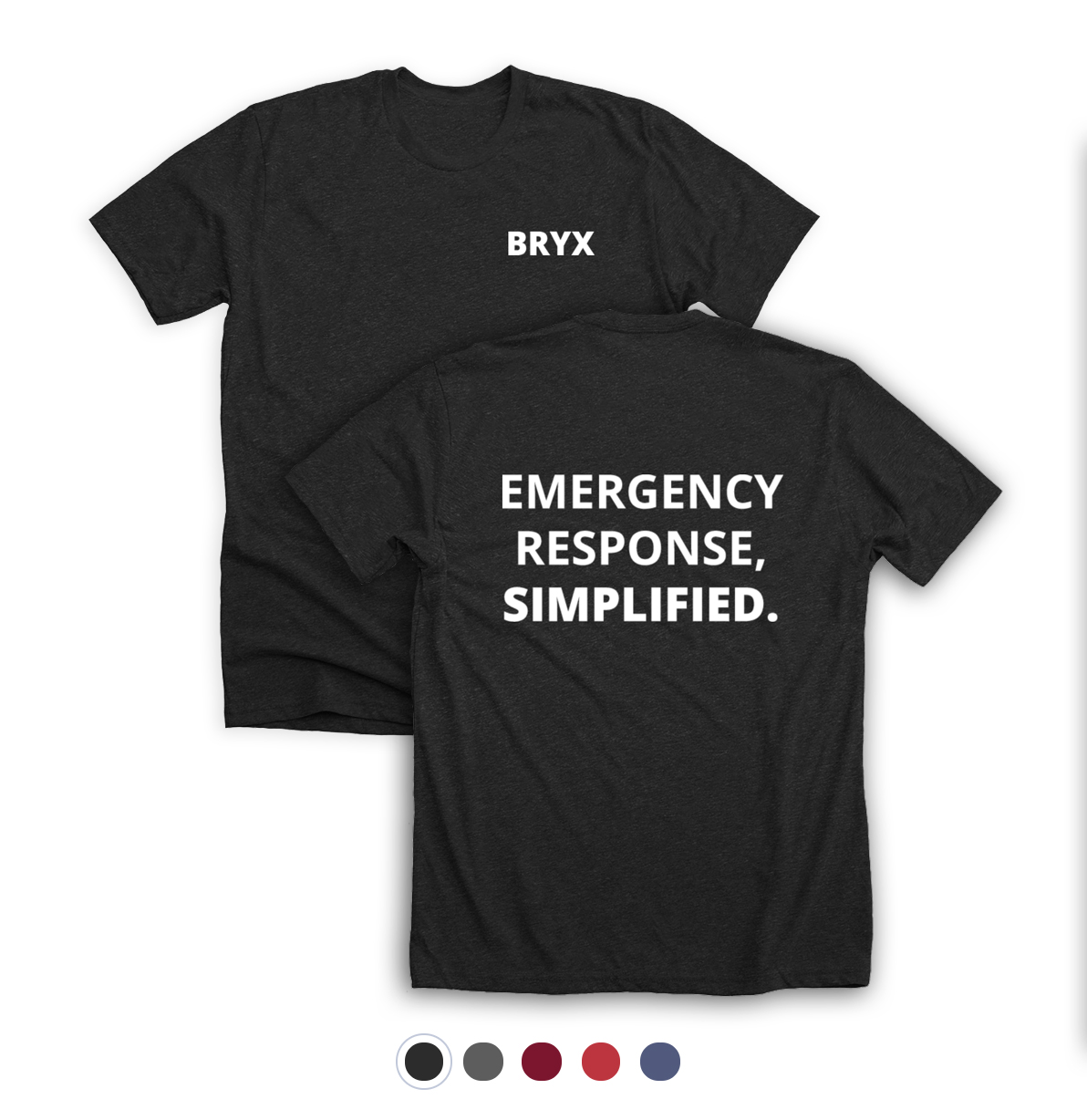 Bryx, a leading provider of first responder technology, has announced their Disaster Relief for First Responders campaign, raising money for first responders and their families who have lost their homes to the very disasters they are fighting. The company is donating all proceeds from t-shirt sales to the National Volunteer Fire Council's (NVFC) Volunteer Firefighter Support Fund and the International Association of Fire Fighters' Disaster Relief Fund.
The campaign runs from December 2-23, with shirts available in charcoal, heavy metal, maroon, red, and indigo. To purchase a $24.99 t-shirt and give back this holiday season, visit www.bonfire.com/bryx-fundraiser.
About Bryx, Inc.
Headquartered in Rochester, NY, Bryx is an employee-owned technology company and a trusted leader in reducing emergency response times. Their data-driven team develops innovative technology that helps firefighters, paramedics, and other first responders work faster, smoother, and smarter. The company's free Bryx 911 mobile app and robust Bryx Station alerting system offer alerting, messaging, and communications tools for first responders. Both simple and powerful, Bryx's patented and data-driven solutions save time where time matters most. For more information, visit bryx.com.
About NVFC Volunteer Firefighter Support Fund
The National Volunteer Fire Council (NVFC) is the leading nonprofit membership association representing the interests of the volunteer fire, EMS, and rescue services. The NVFC serves as the voice of the volunteer in the national arena and provides invaluable advocacy, resources, programs, and education for first responders across the nation. When a large-scale disaster strikes, volunteer responders are there protecting their community, but often they are impacted as well. Through the Volunteer Firefighter Support Fund, the NVFC provides a stipend to eligible volunteer firefighters and EMS providers who have had damage to their homes due to a state- or federally-declared disaster or home fire to help them meet immediate needs in the aftermath of the disaster. Learn more at www.nvfc.org.
About IAFF Disaster Relief Fund
When there's a national emergency or national disaster — from hurricanes, wildfires, floods, and tornadoes, to mass casualty events and civil disturbances — firefighters and paramedics are called to respond, even while their own families may be displaced and their homes damaged or destroyed. The IAFF Disaster Relief Fund provides immediate financial assistance to help those displaced first responders and their families while they continue to serve the surrounding communities. For more information, visit foundation.iaff.org.