Bringing Behavioral Health Out into the Open
May 26, 2015
By Janet Wilmoth, Wilmoth & Associates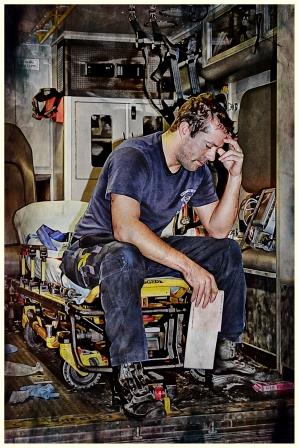 Can you pick out a person who has heart disease? No. For some people, the first sign of heart disease is a heart attack.
Can you pick out a person with diabetes? Not unless they tell you.
What about someone with mental illness? The homeless man talking to himself? Could be, but more likely it's your neighbor, your co-worker, or your teenage babysitter.
Or me. I've experienced bouts of depression for over 20 years.
Photo courtesy of Lauralee Veitch
Mental illness has been characterized in movies and television as raging, grandiose individuals. Sometimes that does occur, but it's in a fraction of the population with mental illness today.
According to the Centers for Disease Control, one in four U.S. adults have a mental illness in any given year. Their
web site
states, "Depression is the most common type of mental illness, affecting more than 26% of the U.S. adult population. It has been estimated that by the year 2020, depression will be the second leading cause of disability throughout the world, trailing only ischemic heart disease."
Long-accepted statistics have indicated that women are 70 percent more likely to have major depression than men. However, according to a 2013 study published in the Journal of the American Medical Association (JAMA), when symptoms are properly recognized in men, major depression may be more common in men than in women. The new study also supports statistics that men are four times more likely to commit suicide.
The medical profession has now categorized mental illness – depression, addictions, and substance abuse – as "behavioral health" disorders that affect healthy behavior. Unfortunately, the stigma of the words "mental illness" too often keeps people from seeking professional help.
Firefighters, EMTs, paramedics, and police officers see some pretty ugly things in their career and dealing with the emotional toll is different for each individual. Volunteer firefighters often have less time to talk through what they saw or experienced with their peers. Sharing with family members sometimes is not appropriate, so they "stuff it" away until life is pretty dark.
Over the past few years, we've seen tremendous efforts in the fire and emergency medical services to change the way it deals with disorders that affect healthy behavior – not only behavioral health issues, but also obesity and addictions. The response to increasing reports of firefighter suicides supports these efforts and helps to remove the stigma related to seeking professional help for emotional pain.
We need to understand that our brain, like the other organs in our body, is vulnerable to chemical changes. Just like a healthy heart deteriorates with an unhealthy diet or lifestyle, we are just beginning to learn what chemicals, genetics, or stress can do to our mental health.
My passion about changing the stigma of mental illness and encouraging behavioral health treatment is deeply personal. I've lost relatives and friends to suicide. I've come to realize that mental illness can be a lifelong disease. I know that you can spiral slowly down and not realize it.
When I was first diagnosed with depression, the doctor had me answer 10 simple questions for depression screening. Since then, the same 10 questions are still used in diagnosis. Those questions can be found on the
Centers for Disease Control's web site
.
Over the past 10 years, the National Fallen Firefighters Foundation has worked to develop Initiative 13 of the 16 Life Safety Initiatives to provide support to firefighters and their families on psychological issues.
Initiative 13
states that emotional and psychological counseling must be available to deal with the stress and complications that can be part of the job.
I've seen people suffer through months of depression and recover. I've also learned how to recognize possible triggers. Sometimes an episode is triggered by a stressful incident or even a season change. Trust is your lifeline. A trusted family member or a good friend can help you recognize signs you need help because sometimes you don't realize you are slipping away.
Asking for help is a tough first step. As a parent, we try to teach our children to ask for help when they need it. As a caregiver to an aging parent, we tell them to ask for help. We just might set an important example to someone else by simply asking for help when we need it.
It's okay.
Just ask.
Janet Wilmoth, former editorial director of Fire Chief magazine, has written about the fire service for over 28 years. She currently is self-employed and continues to work within the fire and emergency services.
Note:

The NVFC provides resources for firefighter behavioral health through the Share the Load
™
program. Access these resources, including the Fire/EMS Helpline, at www.nvfc.org/help.