Biking for Behavioral Health: Q&A with Marc Warren
June 9, 2020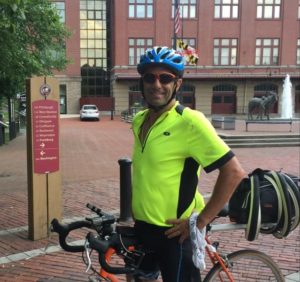 On June 17, 2020, Marc Warren will embark on a one-day, 100 percent human-powered bicycle ride through the 150-mile Great Allegheny Passage (GAP) to raise awareness about the importance of firefighter/EMS behavioral health. His goal is to raise $2,500 to support the National Volunteer Fire Council's (NVFC) Share the Load™ program. This is the second year he will be biking for behavioral health. We recently asked Warren about his ride and what motivates him.
What motivated you to commit to doing this bike ride?
In the spring of 2019, a triathlon I was training for was cancelled and I was looking for a way to take advantage of all the training I had done to prepare to compete. I had the idea to bicycle in one day the 150 miles from Pittsburgh, PA, to Cumberland, MD, on the GAP. I also thought that I could use my ride to raise money for a cause I believed in but was having trouble deciding on a cause. I was lamenting to my daughter, Ali Rothrock, about the situation I found myself in and she, being a volunteer firefighter and EMT as well as an emergency responder mental health advocate, recommended the NVFC. I am motivated to support the work that Ali does as well as the NVFC's efforts to make emergency responder behavioral health a top priority.
 What do you do to prepare yourself for this 150-mile ride?
I have been an endurance athlete all my life. I enjoy long runs and, especially, long bike rides, so I am actually training year-round. To date, my longest endurance effort was a 300-mile ride over the course of a weekend with my other daughter, Julia. I ramp up my training a few months before an event. I'll do more 30- to 50-mile rides that incorporate a lot of hills. I also pay close attention to my diet before and during the ride and spend quite a bit of time mentally preparing. An endurance event eventually turns into a head game where you battle fatigue, boredom, and the little voice inside your head telling (at times screaming at) you that this was a bad idea. I call them "WWIT" (what was I thinking) moments, but they always pass.
In past rides, what are some of the challenges or obstacles you have faced?
The most typical challenges I face are not so much physical as they are the battle with the self that I mentioned. I have, however, been chased by dogs and almost plowed over by a deer running at full speed. I've unintentionally run over snakes and had a chipmunk run up my leg, but I was able to keep it from going up under my riding shorts. This was almost as frightening as being caught in a derecho with my daughter Julia, where massive trees were crashing down around us. That being said, the exhilaration I feel for this ride is indescribable.
 Why is raising awareness of emergency responder mental health so important to you?
It is through Ali's work with emergency responders' mental health that I have become very aware of the unique stress that people in that line of work face. Raising awareness of the behavioral health needs of emergency responders and supporting funding for [assistance programs] can help create a more supportive environment that encourages people to recognize when they need help and how and where to get it.
Why does the Share the Load program, in particular, matter to you?
Unfortunately, the need for the Share the Load program is even greater this year than it was last year. Because of the increased stress in many aspects of our lives due to the COVID-19 pandemic, emotions are running high. Add to these stresses what emergency responders already face related to their work, and a mental health crisis is more likely. The Share the Load program is a vital resource for first responders and their families in crisis.
 What are some of the big takeaways you would like the public to know about your ride?
The big takeaway is not the ride itself, but rather the reason for the ride. Through the NVFC's use of the funds raised, I hope more emergency responders become aware of the Share the Load program and the resources available to them to help deal with the stress and challenges of their work. I also hope that the public becomes more aware of the behavioral health challenges that emergency responders face and that they encourage any first responders and their families they know who needs help to please seek it. Asking for help is a sign of strength, not weakness.
 How can the public support your efforts?
The public can support the ride by making a donation to the cause. They can also take a moment to appreciate what emergency responders do every day to protect us all. And they can show their appreciation for emergency responders whenever they get the chance.
 Is there anything else you would like to add?
I feel so fortunate to be able to do this ride for such a worthy cause. Whatever challenges I will face on this ride are nothing compared to what first responders face. I encourage everyone that can do so to explore the GAP trail. There are dozens of entry points, making for easy access for any length of walk or ride, and the views are spectacular.
To learn more about the ride and to make a donation, click here.