Being Fair to Everyone: Why Diversity is Important for You and Your Department
January 26, 2016
Contrary to what you might be thinking, this article is not going to be a lecture to tell you what you've been doing wrong. Most of us want to do the right thing in regards to diversity within our department memberships. Diversity is the buzzword of the fire service today. Everyone is told that their organization needs to be more diverse. But what does this mean? Diversity isn't just about being fair or nice.
Diversity is about seeing a person as just that: A person. Your opinion of an individual should not be based on culture, ethnicity, race, or any other factors. It is important not to assume anything about anyone; often assumptions prove to be wrong or misleading. Diversity is about acceptance and respect as well as recognizing and valuing our individual differences. Diversity breaks down the boundaries of characteristics and demographics.
Department growth toward diversity starts with creating a welcoming environment in which to conduct everyday business. It's important to spend time with your members and listen to what they have to say. Make them realize they're a valuable asset and appreciate your team for the values and skills they bring to the table. When you make a member feel as though they belong to a department unit, not because they're the same as everyone else but because of their worth as a unique individual, the result is a safe work environment with a highly productive team.
The practice of diversity within your department has to move beyond a statement adopted in your personnel policy or standard operating guideline. It has to become a part of your everyday business. We as a fire service are getting older. And true committed volunteers are harder and harder to find. There comes a point when tradition and experience become the past. In order to secure any kind of succession planning for the future, we need to change tradition and break down the boundaries of how we've recruited and who we've recruited. This starts with leadership.
Leadership is essential from the chief down the ranks to your recruit members. We must, as administrators, lead by example. It can be as simple as respecting the people within your station and accepting their differences. More times than not, your actions, demeanor, posturing, and facial expressions speak louder than words. If you present yourself as accepting and treat everyone as though they are equally important, it can make an immediate and positive impact.
It's important to incorporate your diversity practices into policies, strategic planning, and guidelines. Make change through education and practice. Demonstrate your commitment on an ongoing and regular basis. This in turn will empower your department membership. It will create a better recruitment outreach. It will promote career development and help with coaching and mentoring skills. In my opinion, this is one of those true but funny circumstances where you seriously need to practice what you preach. You as an administrator should nurture and mentor your senior members and explain to them the potential for the positive outcome that you can create.
Communication, communication, communication. Your veteran firefighters and administrators need to be able to openly discuss and ask the simple questions: "Do I bring my Full Self to the station?" and "Can I communicate my ideas, my personality, my opinions, my uniqueness, and my background openly?" If you're just starting to adopt a diversity plan for your department or have already started to adopt a diversity plan, the outcome that you're looking for should be that your members are able to openly and honestly answer these questions amongst themselves, their leadership, and the entire membership.
Diversity doesn't end at your department. Know your community so you can determine the best approach to show your need for volunteers. Many communities are suffering from a lack of volunteers due to a general lack of knowledge that departments are shorthanded. Determining who your audience is and portraying your need for participation and membership is also essential. Welcome all potential recruits with open arms. Likewise, don't be shy about showing how diverse your department makeup is in all aspects of business, whether it be on incidents, department events, or community events. Make sure your department is being represented diversely every time you send ambassadors out.
With ideas, open mindedness, and passionate people involved in this endeavor, you and your department members can pave the way for your updated recruitment model and your future succession planning.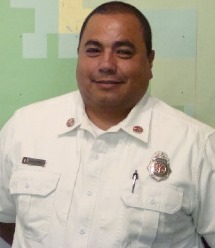 Juan Bonilla is the Fire Chief of the Donnelly Rural Fire Protection District in Donnelly, ID, a combination fire-based EMS department. Juan has been a firefighter for 20 years and has held the position of Fire Chief for 10 years. He is also the vice president of operations for the Idaho Fire Chiefs Association, a board member of the Idaho Volunteer Fire and Emergency Services Association, and is one of the Idaho directors for the NVFC.