Attend the Safety and Health Week Webinars
June 9, 2015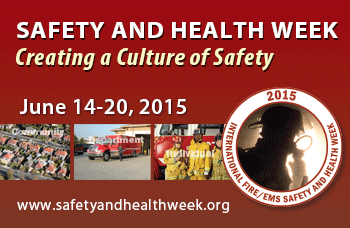 Two live webinars will be held in honor of International Fire/EMS Safety and Health Week June 14-20, to help fire and EMS personnel to Create a Culture of Safety. Safety and Health Week is an annual event sponsored by the National Volunteer Fire Council (NVFC) and International Association of Fire Chiefs (IAFC) to encourage fire and EMS personnel to focus on health and safety education and training.
A webinar on Tuesday, June 16, at 11am ET will discuss the fundamentals of firefighter functional fitness and what you can do to make sure you are physically ready for the next call. Heart attack is the leading cause of line-of-duty deaths for firefighters, and focusing on proper fitness and nutrition is critical to reducing your risks and enhancing your abilities as a first responder. The webinar will be presented by Dan Kerrigan, Assistant Fire Marshal/Deputy Emergency Management Coordinator of the East Whiteland Township Department of Codes and Life Safety, and Jim Moss, Leutenant, Metro West Fire Protection District. Register now.
A second webinar on Thursday, June 18, at 7pm ET will review the National Fallen Firefighters Foundation's (NFFF) Fire Service Vulnerability Assessment Program (VAP). This risk assessment tool is designed to help fire departments reduce and manage their risks in order to prevent firefighter line-of-duty deaths and injuries. The webinar will be presented by JoEllen Kelly, Ph.D., Everyone Goes Home Project Manager and VAP Administrator for the NFFF. Registration information will be available soon on the Planning page of the Safety and Health Week web site.
The NVFC is also offering its new on-demand webinar Cancer in the Fire Service: A Growing Epidemic for free in the NVFC Virtual Classroom. With cancer one of the most dangerous and unrecognized threats to the health and safety of firefighters, this webinar is designed to raise awareness and help you take steps to protect yourself from this growing epidemic.
Make plans to take all three webinars as part of your 2015 Safety and Health Week activities.