Application Period Now Open for 2015 Georgia-Pacific Bucket Brigade Grants
May 30, 2015
Program has awarded $1.5 million in assistance to local departments since 2006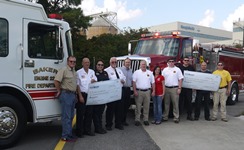 The application period is now open for the 2015 Georgia-Pacific Bucket Brigade™ grant program. These grants provide support to fire departments that serve communities located within 30 miles of a Georgia-Pacific facility. It is the company's way of giving back to the departments that keep their families, homes, and workplaces safe.
About 70 percent of our nation's firefighters are volunteers, who selflessly give of themselves to keep the people and property in their communities safe. However, many departments struggle to provide the necessary resources for these responders to perform their duties. The Georgia-Pacific Bucket Brigade program helps provide local fire departments with the necessities they need to protect and educate their communities.
Since 2006, Georgia-Pacific has awarded over $1.5 million to more than 200 local fire departments in its facility communities. These grants help departments fund equipment, resources, and programming. In addition, Georgia-Pacific provides safety education materials to departments to use in local schools.
To be eligible for a grant, departments must be located within 30 miles of a Georgia-Pacific facility. The grants awarded typically range between $2,500-$10,000 and can be used to fund a variety of necessities, including turnout gear, breathing apparatus, water pumps, hoses and nozzles, and more. In addition, all applicants will receive a complimentary one-year NVFC Department Membership, courtesy of Georgia-Pacific.
Visit www.gpbucketbrigade.com to learn more about the program, download the application, and view a list of Georgia-Pacific facility locations. Completed applications must be submitted to your local Georgia-Pacific facility for approval. Approved applications are due to Georgia-Pacific headquarters by July 10.
About Georgia-Pacific
Based in Atlanta, Georgia-Pacific and its subsidiaries are among the world's leading manufacturers and marketers of bath tissue, paper towels and napkins, tableware, paper-based packaging, office papers, cellulose, specialty fibers, nonwoven fabrics, building products and related chemicals. The company employs approximately 35,000 people directly, and creates nearly 130,000 jobs indirectly. Founded in 1958, the Georgia-Pacific Foundation has four key investment areas: education, community enrichment, environment and entrepreneurship. For more information on the Georgia-Pacific Foundation, visit www.gp.com/gpfoundation.