2020 National Traffic Incident Response Awareness Week
November 10, 2020
By T.J. Nedrow, NVFC Washington Director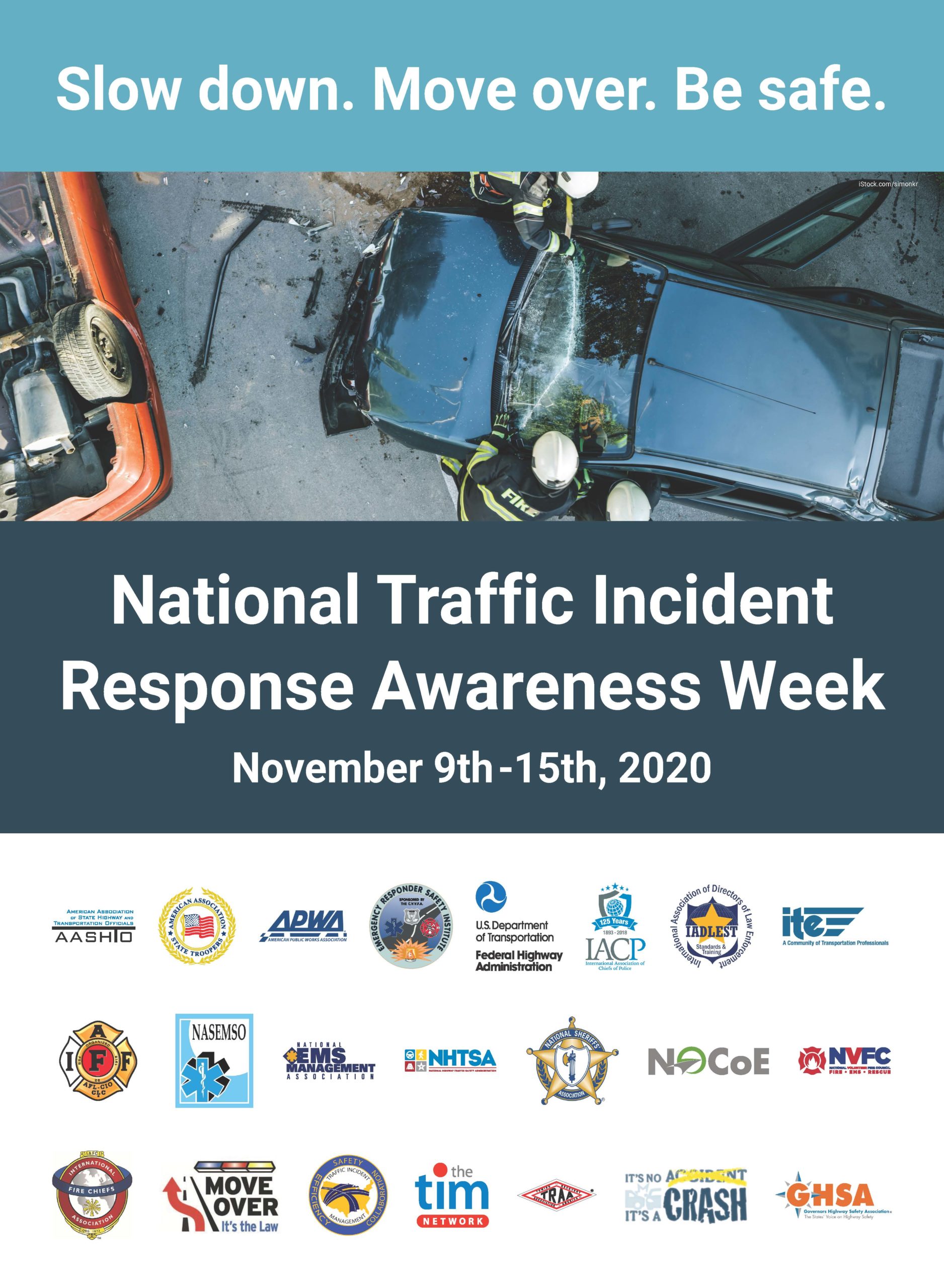 Slow Down. Move Over. Be Safe. Every minute of every day, emergency responders across the country work to help save lives at the scene of roadway traffic incidents. Too many responders are struck on scene. Too many die. In fact, one is too many! As of this writing, 44 roadway responders have lost their lives in 2020 after being struck while working a roadway incident. The goal of National Traffic Incident Response Awareness Week, November 9-15, is to reach out to every responder, and to every driver, and to every passenger, to make it clear that every person has a role to play in roadway scene safety.
Your part is to carry the message of Slow Down. Move Over. Be Safe. This week is a chance for you – for all responders – to individually and jointly make a difference by educating each other, and the motoring public, about our common goal and responsibility to one another. Rally your peers to talk the talk and walk the walk of the best practices of traffic incident management. Incorporate the tools, enhance your situational awareness with the right tools and training, and be the example.
The National Volunteer Fire Council (NVFC) is engaging with the fourth annual National Traffic Incident Response Awareness Week and, recently held a Facebook Live discussion on traffic incident response. You can find additional training and outreach resources for the week from the Emergency Responder Safety Institute and the TIM Network.
I've been fortunate to push my agenda of "Protecting the Protectors" and introducing TIM to many in my decades of specialized focus on state and national committees and workgroups. The best complement to me and my peers today, Slow Down, Move Over, Be Safe.
We'd like to hear of your National Traffic Incident Response Awareness Week success story. Send yours to NVFC Chief of Communications Kimberly Quiros at Kimberly@nvfc.org.
T.J. Nedrow is 40+ year career volunteer and longtime Washington State NVFC Director. He has served on the National TIM Coalition, NFPA 1091 TIM Pro Quals Standards Committee, National Transportation Safety Group, and is founding chairman of the Washington TIM Coalition.